Access to healthy and affordable food is a pressing issue for over 300,000 residents in Marion County.
Indianapolis is ranked the
worst in the nation for food deserts
, and the closing of the
Double 8 grocery stores
in 2015 [and now Marsh in 2017] only heightened awareness of what was an existing issue.
Our initial 2017 challenge focused on this topic, asking: How might Indianapolis residents better access healthy and affordable food?
A wide diversity of voices came together to co-create solutions as we moved through a four-month innovation process led by our friends at Collabo Creative:
INQUIRE (February): Understanding the problem
IDEATE (March): Brainstorming ideas
INVESTIGATE (April): Turning ideas into solutions WITH doers
IMPACT (May): Preparing for implementation
Participation took place online and/or through meet-ups, as detailed on each of the tabs. You can listen to a discussion of the Indy Healthy Food Access Challenge on the WFYI No Limits Show and the Wit, Wisdom & Food podcast. The Indianapolis Business Journal also provided a summary of the efforts.
Want to get involved in future challenges? Subscribe to our newsletter to stay up to date. Questions? Comments? Contact Stephanie Fernhaber at stephanie@communityINNOVATE.org.
Read more about the challenge goals and champions!
Our goal in the INQUIRE phase was to gain a shared understanding of the problem of accessibility to healthy and affordable food in Indianapolis. We did this by listening and gathering insights to the following four prompts: (1) Share your story, (2) Experience it, (3) Existing research, and (4) Local initiatives. Insights were shared online and also collected at our panel and community listening events. View all of the insights below!
At the end of the month, Collabo Creative helped us analyzed the insights and, as a community, decided which food access issues to focus on as we move forward in the challenge. A recap of the INQUIRE process can be found here.
During the IDEATE phase, our goal was to collectively brainstorm solutions…to the prioritized issues identified in the INQUIRE phase!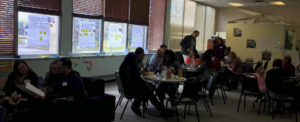 (1) Urban agriculture: How might we start and sustain more urban farms?
(2) Food & nutrition education: How might we empower youth to inspire heathy eating in their families?
(3) Transportation: How might we make transportation convenient and affordable in getting people to existing grocery stores?
(4) Alternative retail models: How might we create affordable ways for people to buy healthy food in the areas where they live?
We rose to the challenge and came up with 271 ideas (view the ideas below)! For a full recap of the IDEATE phase, click here.
With the help of Collabo Creative, the ideas were later synthesized to create an "idea map" used to help inspire action as we move into the INVESTIGATE phase.
The goal of the INVESTIGATE phase was to connect high-potential ideas with "do-ers." Why? Because ideas don't have impact on their own! Do-ers might be existing non-profit or for-profit organizations, faith-based ministries, students, entrepreneurs or anyone else that is interested in making impact happen.
On April 21st, we held a full day Make-a-thon. Our starting point centered on the Idea Maps, which categorized each and every idea (because every voice matters). While only ideas connected to do-ers were the focus of the Make-a-thon, this is certainly a great database for the community to continue to draw on!
With the help of the Collabo Creative team, we prototyped solutions and gathered feedback (and then did it again, and again). Business models were developed in the afternoon under the expertise of Carl Zuhl with DoTankDo. The day ended with 10 pitches, and many other solutions discussed throughout!
And, of course, we enjoyed delicious food from FarmersMarket.com and Kheprw Institute's Ms. Paulette. Thanks to all who were able to participate!
While our make-a-thon was going, a group of 60 fifth graders were having a make-a-thon of their own! This group of students from Park Tudor have participating throughout the entire challenge, and share their pitches HERE.
The goal of the IMPACT phase was to further prepare the "do-ers" for implementation.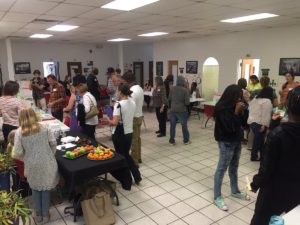 On Friday, May 19th, a Solutions Showcase was held at the Flanner House. This was an opportunity to provide additional feedback for the do-ers, and to connect do-ers with mentors, support and other resources that they might need. It was an inspiring afternoon with lots of collaboration emerging.
Thanks to Mercy Road Church, $10,000 was awarded in Do Something Grants to 20 solutions that addressed food access! The micro-grants were designed to help spur action and further support the development of solutions by our do-ers.*
Yet, the conservation and impact does not start or stop with the challenge, but rather is driven continuously by do-ers. Check out this SIX MONTH FOLLOW-UP to co-learn together.
Feel free to reach out to our do-ers directly to get involved and THANKS for being part of the process!
*If you are looking for larger sources of funding once you have a sustainable business model, we encourage you to check out the Healthy Food Financing Programs, IU Health Healthy Food Access Grant, Faith and Action project, Build Fund, Conservation Fund: Transporting Healthy Food, and the various local investors for starters.
Thanks to our challenge sponsors:
Share Your Story

What has been your experience with food accessibility? We want to hear about your success stories, improvised solutions as well as the major barriers.

Experience it

Sometimes you can gain new insights through experience. We encourage you to drive through the east side of Indianapolis and stop by the food retail options that do exist. What do you observe? What do you hear? What do you feel?
Interview someone

Do you know someone who has been impacted by this social issue? Or, do you know someone who is very knowledgeable about this industry? Interview them to find out their success stories, improvised solutions as well as the major barriers.

Local Initiatives

Help us create a database of existing initiatives throughout Indianapolis that are targeted at addressing food access issues!