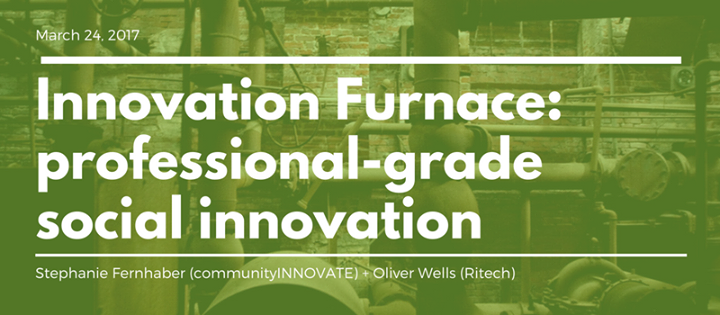 Workshop – Innovation Furnace®: professional-grade social innovation
8:00a: Doors Open
8:00 – 8:30: Breakfast & Networking
8:30 – 10:00: Workshop & Activities
How do you deliver 12X more quality ideas than traditional brainstorming? Come learn about the Innovation Furnace®, a proven, focused, and intensive method used to get new HotConcepts™ to market. Oliver Wells and Lawrence Walter of Ritech Solutions will share the structured, disciplined process behind the Innovation Furnace® that gets your ideas to market by delivering a complete portfolio of ideas that can be incremental built and deployed.
In this hands-on workshop, we will apply the Innovation Furnace® methodology to come up with ideas for the Indy Healthy Food Access Challenge. According to Walk Score, Indianapolis ranks the worst in the nation for food deserts. Using an open innovation platform, the Indy Healthy Food Access Challenge leverages the power of the greater Indianapolis community and the human-centered design process to co-create innovative solutions that improve access to healthy and affordable food. This is the initial challenge for communityINNOVATE, a new initiative led by Stephanie Fernhaber.
This month's workshop will be meeting at the Neidhammer, one of Indianapolis' newest event venues that features the Neidhammer Coffee Co. and Cowork spaces. For years, the near east side of Indianapolis was marked by blight. Empty and boarded up windows dominated the landscape. However, spaces like the Neidhammer are returning to the area. The once empty, boarded up buildings are being restored and used.