Indy Youth Empowerment Challenge

The Indy Youth Empowerment Challenge was inspired by a group of students at Warren Central High School. After losing two loved ones to gun violence in May of 2017, these students decided to stand against youth violence and started a growing social movement called
We LIVE Indy
.  As demonstrated by We LIVE Indy and other inspiring youth initiatives throughout Indianapolis, empowered youth can have an incredible impact on their community and future. Yet, all too often youth are not even involved in the conversation.
Youth are an important component of community development, and crave recognition as equal contributors in shaping a just society (Helgeson & Schneider, 2015). When youth become engaged in community activities they develop effective leadership skills and a sense of purpose (Brennan, Barnett and McGrath, 2009). Empowering youth within a community also reduces traditional problem behaviors (Helgeson & Schneider, 2015).
Using a people-centered approach, the Indy Youth Empowerment Challenge brought together existing conversations and a diverse set of voices through a four-month innovation process:
INQUIRE (February): Understanding the barriers and catalysts to youth empowerment
IDEATE (March): Brainstorming ideas
INVESTIGATE (April): Turning ideas into solutions
IMPACT (May): Preparing for implementation
While the youth voice was amplified throughout the challenge, a diversity of ages and perspectives representing youth, education, community, business, faith, and government were encouraged to participate.
The Indy Youth Empowerment Challenge has multiple goals. First, through purposeful conversations, we strive to collectively discuss youth empowerment in Indianapolis. Second, a diverse set of voices must not only participate in the conversations, but also be heard. Third, as open and inclusive dialogue can lead to deeper, and ultimately, stronger relationships, an increased sense of community might result. Fourth, solutions that involve and/or are driven by youth will come out of the process.
Questions? You can subscribe to our newsletter and/or email stephanie@communityINNOVATE.org.
Find out more about our Challenge Champions!
In the first INQUIRE phase of the challenge, our goal was to gain a shared understanding of the barriers and catalysts to empowering youth. Using the INQUIRE toolkit, we shared stories and experiences, and collectively listened. This was done through a variety of community and youth-only workshops, in partnership with the Orr Fellowship, Teach for America, Butler University, Kheprw Institute, Warren Library, Avondale YMCA, We LIVE Indy, Boys & Girls Club, Private Reserve Outpost/apartment community, MLK Center, multiple schools, and many more participants.
Check out our insights collected below! If you have more data to add, contact us today.

In the INQUIRE phase, we dug into the barriers and catalysts to youth empowerment in Indianapolis. Now, in the IDEATE phase, we have narrowed our focus based on what was collectively heard. Lots of ideas have been brainstormed following our
IDEATE Toolkit!
In the IDEATE phase of communityINNOVATE's Indy Youth Empowerment Challenge, lots of ideas were brainstormed. Now, in the INVESTIGATE phase, you identified which idea(s) you were most excited about and turned them into more fleshed out solutions.
There is still time to join others across the city by hosting your own youth workshop! This is an ideal option for teachers, youth leaders, universities, church groups, and others that work with youth and care about this topic. Use the INVESTIGATE toolkit to facilitate the workshop, and add your ideas below. Interested? Let us know!

The goal of the IMPACT phase was to further prepare youth oriented solutions for implementation.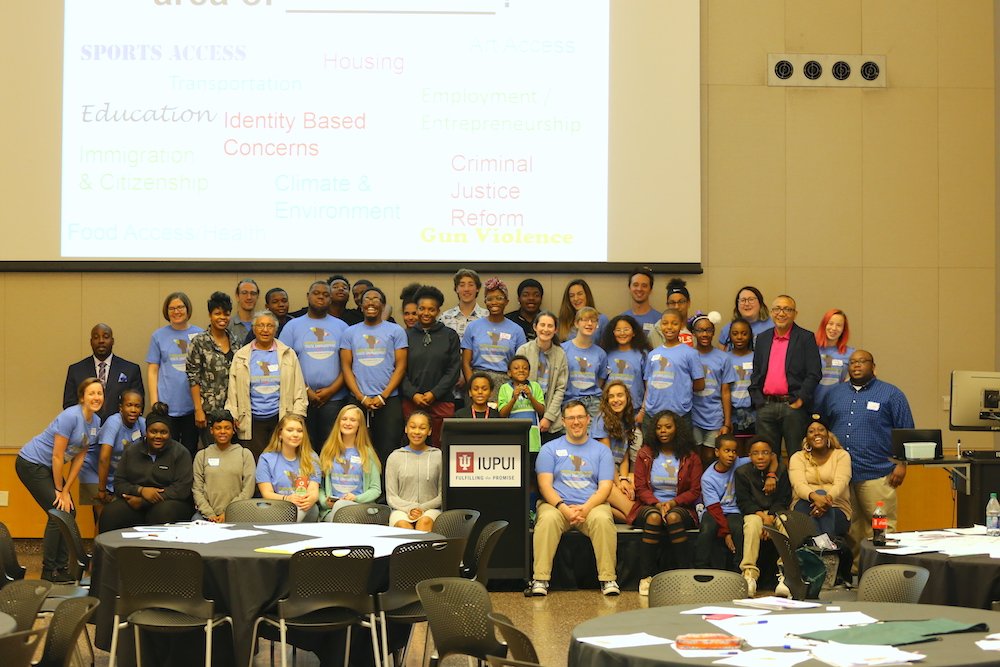 We provided Do Something grants (a big thank you to Renewing Management for making this possible)! These micro-grants of $500 each were designed to help spur youth oriented solutions. Check out our winners!
On May 19th, the Youth Empowerment Summit was held. This event was spearheaded by our friends at Teach for America, and was an amazing opportunity for youth. The Indy Youth Empowerment Challenge was highlighted, and students were be able to network and develop ideas.

I feel empowered when...

Complete the sentence…

Digging Deeper

Getting at the root of the issue…
Existing Research

Studies, articles, stories…

Other Insights

Anything else…